This post curates free online stroke recovery tools. These will help you a lot because government-funded rehab programs provide only limited sessions.
Continued rehab at home is the only answer. Fortunately, you have access to a few online tools for free.
However, you need continued support and a high degree of motivation.
---
ViaTherapy App
This is an excellent app that you can download for free. It helps you to regain arm and hand movements after a stroke. It is a product of five years of research by an international panel from Canada, the US, Australia, New Zealand, The Netherlands, the UK, and Sweden. In Canada, two esteemed groups have partnered to create the product: the University Health Network (UHN) and the Canadian Partnership for Stroke Recovery of the Heart and Stroke Foundation.
You can download the link through this link: https://www.viatherapy.org/#gettheapp
---
GRASP is a free stroke recovery tool. It aims to improve arm and hand movements after a stroke. The tool is a product of the University of British Columbia's researcher-practitioner, Dr Janice Eng, PhD, PT/OT. She and her team developed this resource after a comprehensive neuro-rehab research program; it has two versions: A hospital version and a home version. Both versions consist of books, manuals, and video clips.
The word, GRASP is an acronym; it refers to the "Graded Repetitive Arm Supplementary Program". The tool follows the Canadian Best Practice Recommendations; the stroke recovery efforts need to be intensive, repetitive, and task-specific. You can find more about this here.
You can access this resource through this link: https://neurorehab.med.ubc.ca/grasp/grasp-manuals-and-resources/grasp-home-patient-book-2/
---
FAME is a group exercise program developed for people with stroke who have some standing and walking ability. Research has shown that this program improved mobility, cardiovascular fitness, and arm and hand function. A physical therapist or occupational therapist instructed the patient in the program, but the patient did the program independently.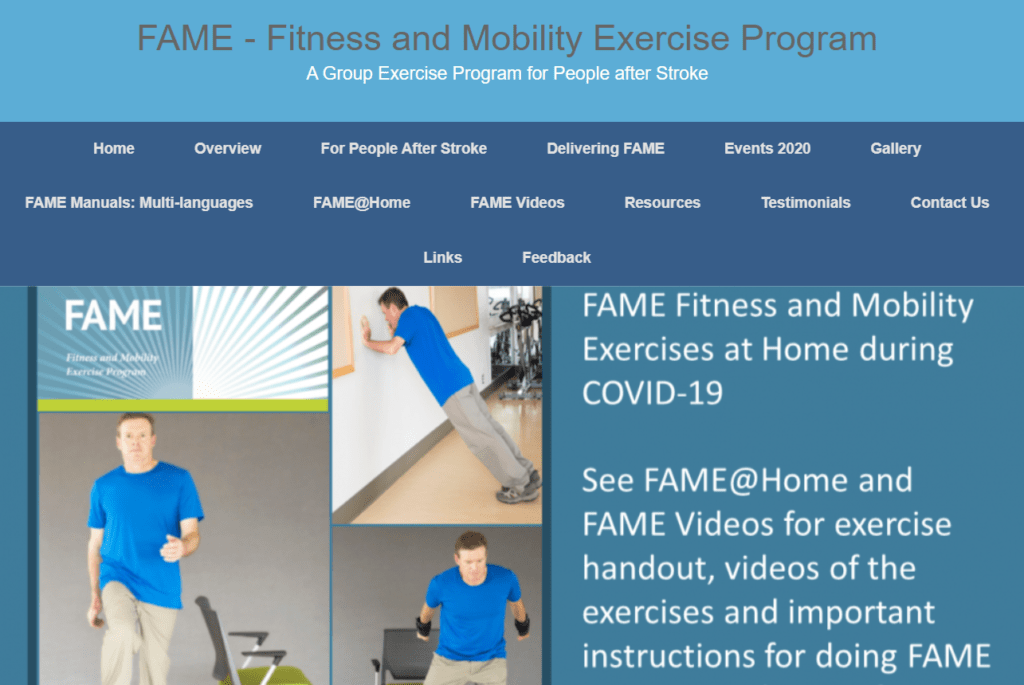 Here is the link: http://fameexercise.com/
---
Online exercise programs from March of Dimes Canada
March of Dimes Canada runs group-based online exercise programs on weekdays. You can enter the following website through this link: https://www.marchofdimes.ca/en-ca/programs/Pages/Online-Exercise.aspx#stroke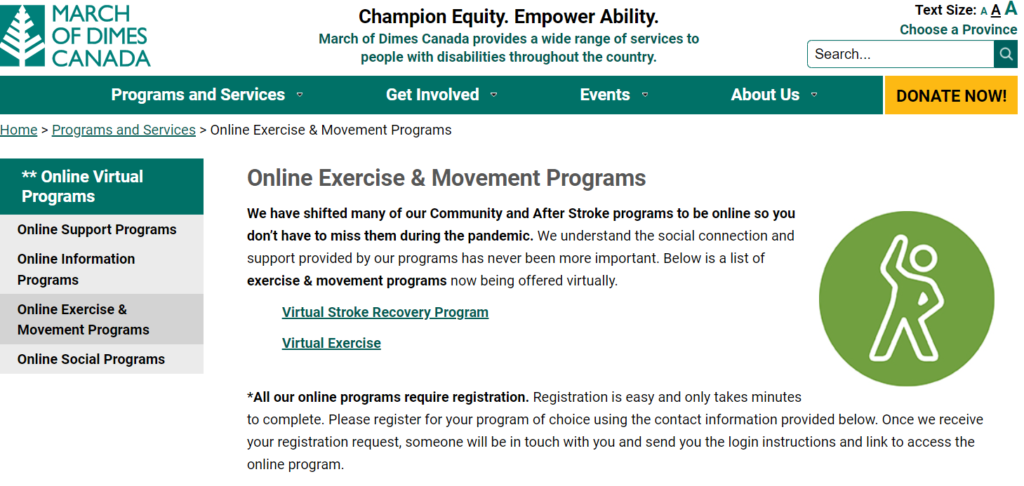 ---
IWalkAssess App
This is another evidence-based app that helps you to assess your walking ability after a stroke. It includes the following features;
Administer walk test
Interpret performance
Treatment, education, and goal setting
You can access the IWalkAssess website through this link: http://www.iwalkassess.com/
You can get more information from the Knowledge to action lab site; https://www.youtube.com/channel/UCh65ZgnzmSuJ2jWDjTVz1-w/videos
---
Do you know more free resources available online free? Please mention those in the comment section for others' benefit.